Lottery games are some of the most appreciated and popular games of chance around the world. We constantly see news about people whose lives have been changed after winning the lottery. It is true that almost all of us have dreamt about winning the lottery one day, but some of us also play it for fun. This is why nowadays we can find a wide variety of lottery-style games, both online and offline.
Operators who are looking to buy online casino games can find several versions of lottery games for their internet gaming websites, but some of the most popular and easy-to-integrate in an online casino are keno games, bingo games and scratch card games. We have put together a list of the most popular lottery games provided by our company, so that you can choose the right ones for your casino more easily.
Bingo SilverBall 75 is an arcade lottery game that allows players to reveal up to 4 bingo cards and see if they get the matching numbers from up to 75 balls that are randomly chosen. This game reminds us of the old-school bingo halls were everyone was anxious to see if they were lucky enough to match a line or even the bingo.
Bingo games are still played by many gaming enthusiasts around the world, but having the opportunity to play this game from home makes it even more exciting. More than that, this game does not require any skills, which means that it can be played by anyone of legal age, from novices to experts.
Old-school bingo comes to life with this classic game inspired from the 80's, when bingo was one of the most popular games out there. Buy some bingo tickets and sit in front of a vintage TV, where you will find out if you got the winning numbers. Operators who are looking to buy online casino games will discover the interesting design and features of this multiplayer bingo game. Perfect for an internet café business, this game can easily recreate that true bingo feeling.
Keno Vegas 80 is the perfect game for players who are looking to try their luck at an online casino, without having to learn any new skills. Simple as any lottery-style game, but with a Vegas-inspired design, Keno Vegas 80 will surely entertain any player out there. The idea behind this game is simple: players have to choose maximum ten numbers from a pool of eighty.
When the game begins, ten numbers will be randomly selected, and the matching numbers will be revealed, as well as the winnings. Keno Vegas 80 also features an interesting, attractive design and a song theme that is meant to keep players focused on the game.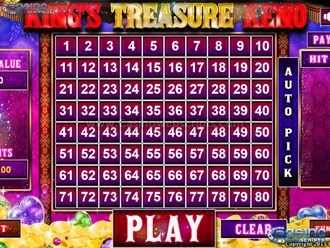 Since Keno has gained a lot of popularity among players and operators who buy online casino games, the mobile version of this game is expected to have even more success than the desktop version. The fact that you can play it from anywhere, on your mobile phone or tablet, makes this game perfect for the gaming enthusiast on the run, and not only.
King's Treasure Keno has a story behind it, which says that a wealthy king had so much money that he decided to organize a special game and reward those who would guess his favorite numbers. Like so, players simply need to pick their favorite numbers and see if they can win a part of the treasure. Suitable for both desktop and mobile devices, King's Treasure Keno features a colorful design and interesting sound effects which go along with the royal theme of the game.
Besides these 4 games, operators who want to buy online casino games can browse through our collection and choose the ones they like most:
Beach Cocktail Scratch Party Mobile HTML5
Crazy Monkey Scratch Card Mobile HTML5
Ultimate Soccer Scratch Card Mobile HTML5
Pirate Treasure Hunt Mobile HTML5

1 February 2023
Creating an online casino and starting a business in the iGaming industry is a great option for entrepreneurs who are interested in making a successful investment. The constantly-growing casino market is tempting, mostly...