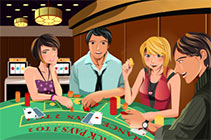 A land casino, also known as a local casino, represents a casino that operates inside a building and uses real tables for card games and physical slot machines( most casinos have over 20 slot machines, but you can build a custom slot machine by using a slot frame/support and a PC with monitor - total would cost around 400 EUR for each custom slot machine. We recommend you doing so, instead of paying over 5000 EUR for a slot machine fabricated in series. The most popular land casinos are located in Las Vegas. You can achieve similar product quality with our solution. With our software you can open your own land casino and if you want and you can also let users play from home. If you want you can disable home play and allow access to your games only to local players that come to your casino for the games.
By using the solution recommended by us, you will be able to outclass the old-style graphics that people were familiar with, when playing slots in the early 90's with graphic quality being limited by the progress of technology at that time. Now, your casino games can display amazing 3D graphics with nice animations and sound effects. All the games that you see on our demo website can be available in your local casino.
In order to start a local/land casino, you will need the following:
buy our casino software;
buy our casino games;
have a stable internet connection;
have 10-20 PC's with WINDOWS XP/WINDOWS 7, 64mb GPU(graphics card) and a touch monitor ( estimated cost - around 400 EUR per PC );
use Google Chrome Kiosk mode on each PC;
Each of your casinos will have a manager, that will have access to the administrator panel, but with limited privileges. You can use the administrator panel to set the privileges of all managers and agents. Using the administrator panel, your manager will be able to CASH-IN and CASH-OUT your players and give them credit on the machines on which they will play.
We can also integrate a prepaid coupon system. The players will go to the bar and there he will ask for 10$ CREDIT. The player will give the money to the bartender and the bartender will give the player a CODE. Then the player can go to any machine he wants and enter that code and he will receive 10$.
More details about the configuration of each PC can be given upon request, to help you start your local land based casino.
Additionally, you can buy bill/coin acceptors and place them near each machine, integrate them with the computer and with our software, thus offering each player the option of an instant cash-in. For more information about integrating bill acceptors, click here.

1 February 2023
Creating an online casino and starting a business in the iGaming industry is a great option for entrepreneurs who are interested in making a successful investment. The constantly-growing casino market is tempting, mostly...