Gaming operators who want to buy online casino games are usually looking to provide an online casino solution that offers a diversity of games, in accordance with their customers' requests. Some of the most popular casino games, which are recognized in all land-based an online casinos, are usually poker, slots, roulette, blackjack, baccarat and dice games.
When you open an online casino, having at least one version of these games is an essential criteria for attracting all kinds of customers, from mass-market players to high rollers. However, not everyone enjoys playing these traditional casino-style games, especially due to the fact that all of them have certain rules and some of them even require a certain level of strategy.
This is why it is important to introduce a variety of options when you decide to buy online casino games, in order to offer players something original that they can enjoy, while getting the chance to win significant prizes.
One of the best solutions for an original online casino is offering arcade casino games, which combine the traditional video games, such as car races, horse races and more, with online bets. CasinoWebScripts has developed several arcade casino games, and in this article we will review the top three.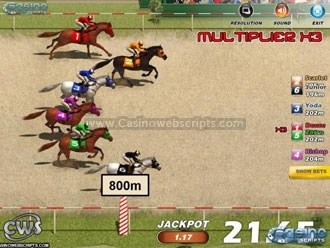 Players who access this game will be thrilled to discover a classic horse-racing environment, during which they will get to bet on several events. During Horse Race Lucky Derby, operators who buy online casino games will discover that the game has been developed with top-quality, realistic graphics and sound effects. The bet panel offers a wide range of betting possibilities for players, who can place several combined bets.
During the horse race, 6 horses compete head to head for a 1 km distance. The race is full of surprises, during which one horse will get the chance to collect a golden horse-shoe, which acts as a win multiplier. If the horse finishes in top 3, the multiplier is applied. More than that, the game is presented by a sports commentator, who will keep the players updated during the race.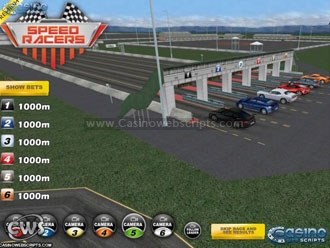 Speed Racers is a car race game where players get to bet on their favorite cars, during a fierce race filled with adrenaline. Car race games have always been adored by the online gaming community, but with this game, players can take a step forward and even put real money at stake. Operators who buy online casino games will see that this game offers a complete bet panel, where players can place single or combined bets on the cars they prefer.
This game comes with several additional features that will keep players entertained at all times during the races. With high-definition graphics and realistic sound effects, the experience gets even better thanks to the option of viewing the race from different angles. The race is full of surprises, and there is no telling if all the cars will get to the finish line in one piece. A great game for car lovers and not only, Speed Racers is the perfect game for users who want to try an exciting arcade game where they can also place bets.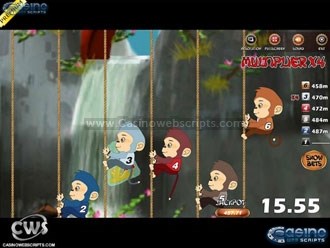 Thunder Monkeys is a magnificent game that has been inspired by the story of the Thunderbolt Monkeys. During this game, players will get to see an intense race between 6 monkeys that are looking to become the Thunderbolt King. The monkeys need to reach the sky by climbing silk ropes, but there is no telling what they are going to encounter along their way. The imperial eagle is always looking for a monkey feast, but the jackpot warrior is there to help the monkeys climb up to the top.
Just like in all CasinoWebScripts racing games, operators who buy online casino games will discover a complex bet panel, where multiple bets can be placed on several events. More than that, the game offers a wide range of additional features, such as multiplier rewards available every race, or events that make monkeys fall off the rope or be pushed down by eagles.

1 February 2023
Creating an online casino and starting a business in the iGaming industry is a great option for entrepreneurs who are interested in making a successful investment. The constantly-growing casino market is tempting, mostly...