UPDATE 2022: The sports betting addon is currently not available for purchase due to the fact that the sports data provider is out of service. Please check our casino games if you wish to open a gambling business with no monthly fees.
Our SportsBook software actually represents an add-on for our Casino Management Platform.
This means that your Sportsbook sports betting website will have the same features that our Casino Software uses.
You will need to own or buy our Casino Management Platform, in order to use the Sportsbook platform.

The SportsBook solution available for sale comes with many features, the most important of them being the complete automatization of operations. This means that the feeds are retrieved and added to the platform automatically, that the results are retrieved and updated every minute, and that the ticket wins are calculated and distributed instantly to the player accounts.
On top of these, if you decide to buy our SportsBook software, you will have a set of Smart Risk Management options that will make your platform a profitable and secure solution for you. You can find below a list of features.
Our Sportsbook software can also be used with bitcoin or altcoin casinos.
Contact us for purchase.
Compatible with any devices (smartphone, tablet, PC);
100+ countries and 250+ leagues covered for soccer;
5000+ events per month for soccer;
Over 20 odds available for many soccer event from important leagues;
Live results available for all events;
Complex statistics for each event and for each bet, available from the administrator panel;
Adjust the maximum allowed win per ticket, using the administrator panel;
Adjust the maximum bet allowed per ticket, using the administrator panel;
Adjust the maximum number of events allowed per ticket (currently set at 15), using the administrator panel;
Add your own profit margin for each set of odds;
The player can switch between decimal or fractional odds listings;
The software will automatically retrieve and update the odds and results for all the sports events that are played in the selected leagues. This feature includes detailed verification of odds pricing. No line management staff required;
Score updates every 30 seconds;
Dynamic bet slip that automatically calculates the return based on the entered stake and selected events;
Possibility to cancel events from the administrator panel. Cancelled events will have odds of 1.00 on all tickets that added those events;
Possibility to manually edit any odds and lock them to manual mode, through the administrator panel;
Live events are listed with green color, completed events with yellow, coming events with blue and cancelled events with red;
Lobby for the user to view all possible events and filter them by date, league or team name;
Lobby for the user to view all his tickets and detailed data about each bet that he placed;
Compatible with any type of casino, including bitcoin casino and facebook casino;
What we don't offer:

live in-game odds (currently all the bets must be placed before the event will start);
Price
The price of the Sportsbook add-on is 3000 EURO/sport (available only for a limited time) + 150 EURO/month (for the data feed paid to a 3rd party company), but you must own our CASINO MANAGEMENT PLATFORM, to use the sportsbook add-on.
NOTE: Currently only soccer is available.

Disclaimer: We do not assume any responsibility for the validity of the sports data obtained from the data feed provider.



Demo
Demo can be played here.
You can click on the below pictures to see more details of our Sportsbook Platform.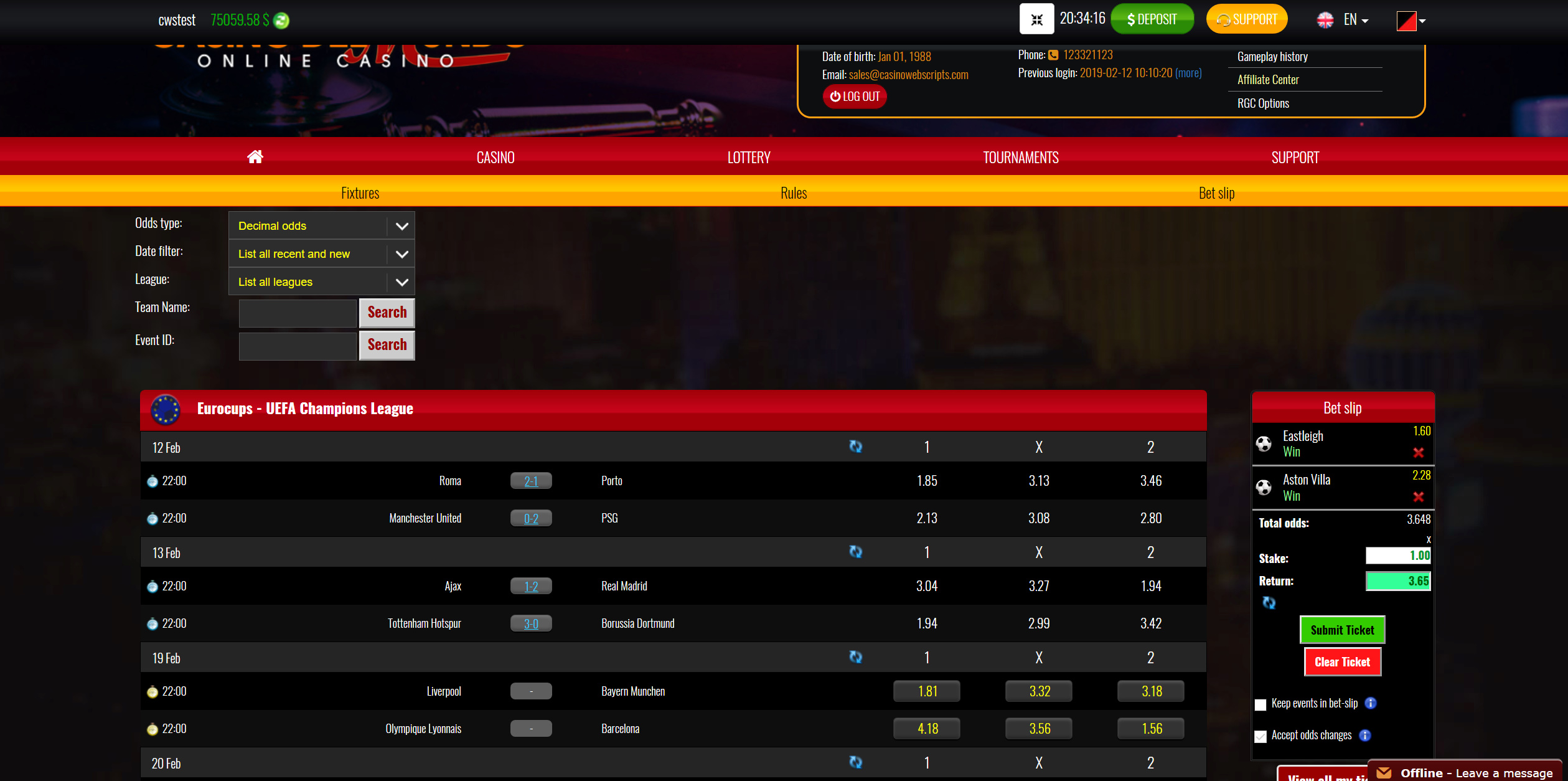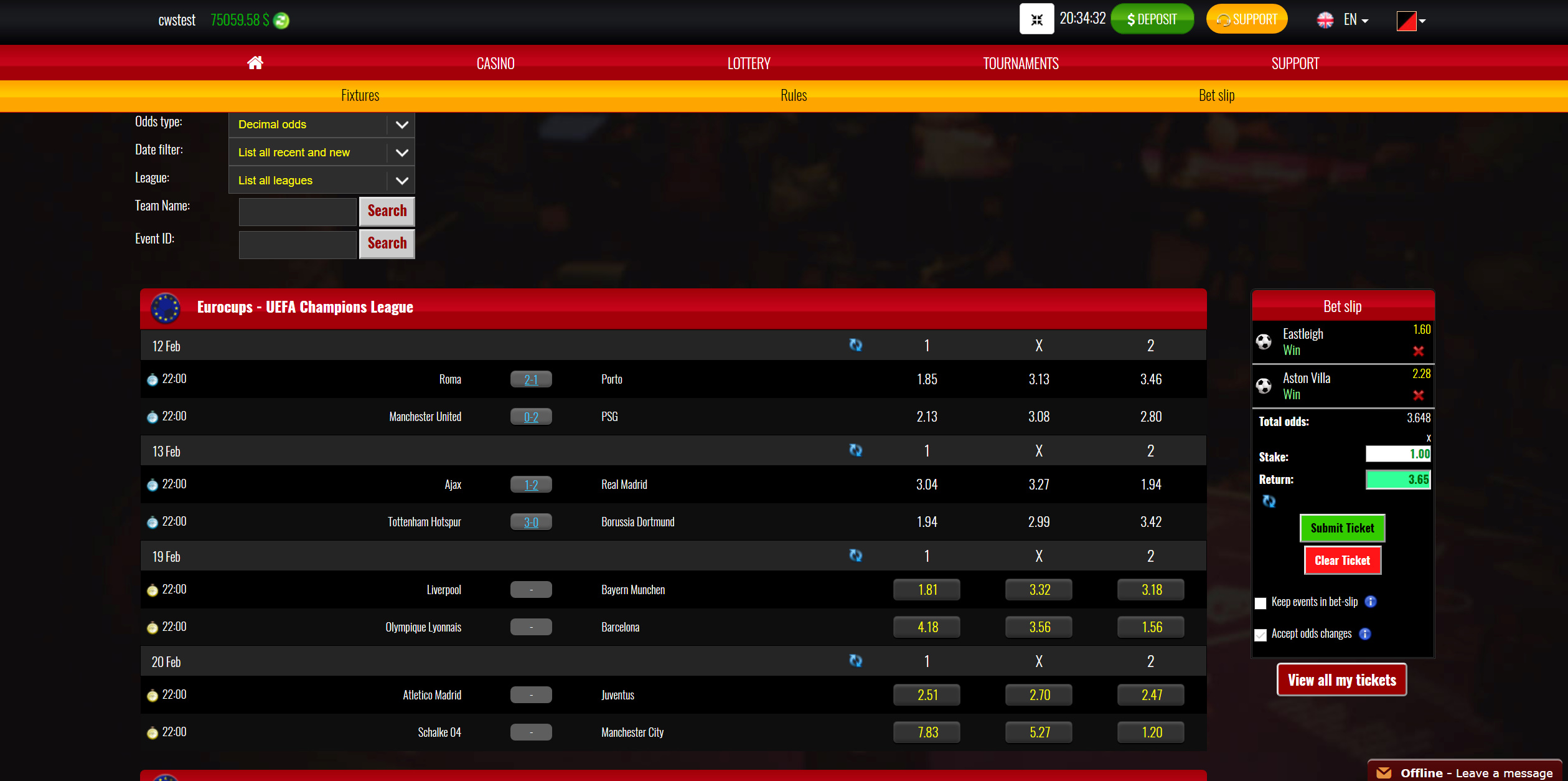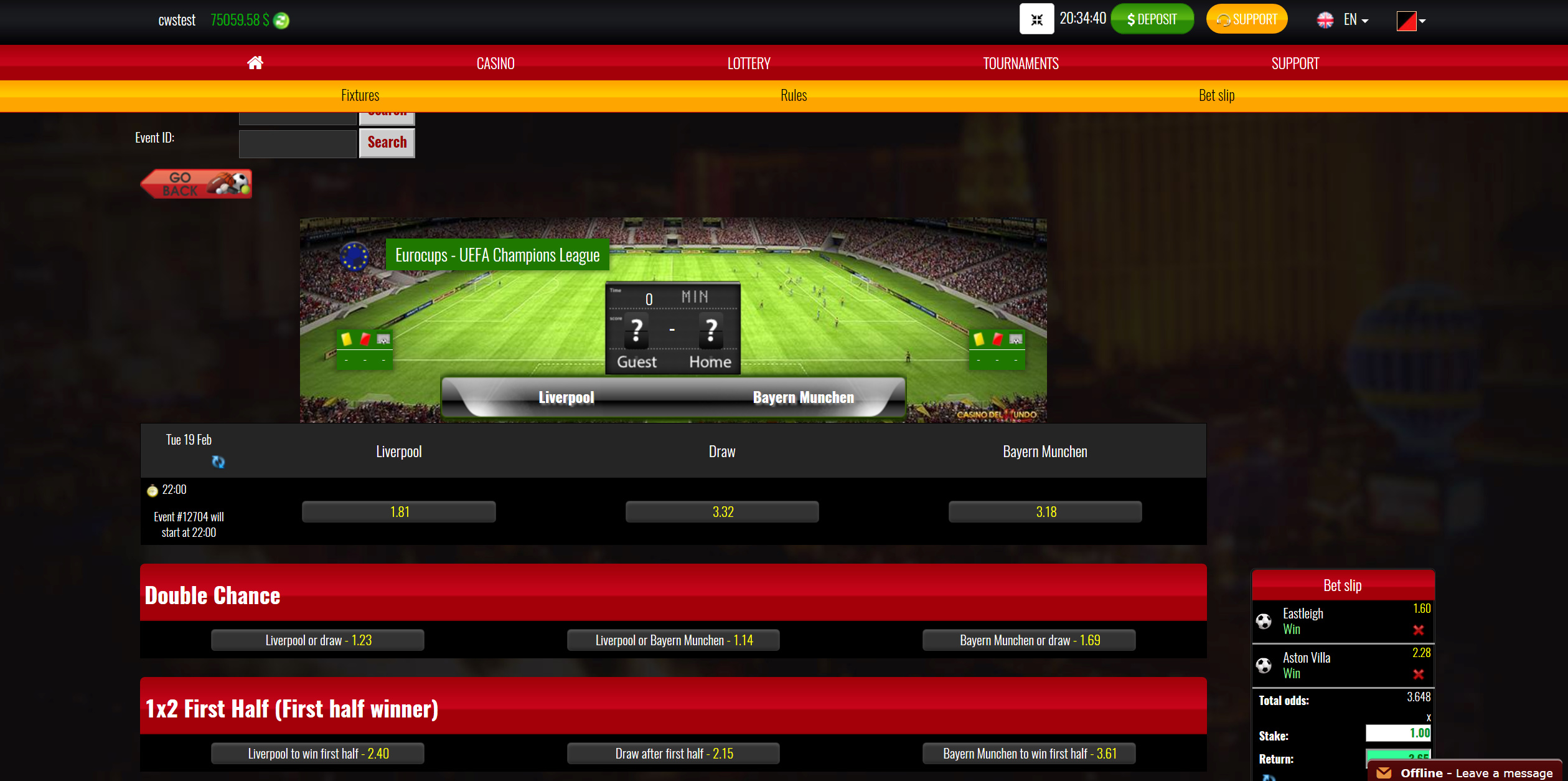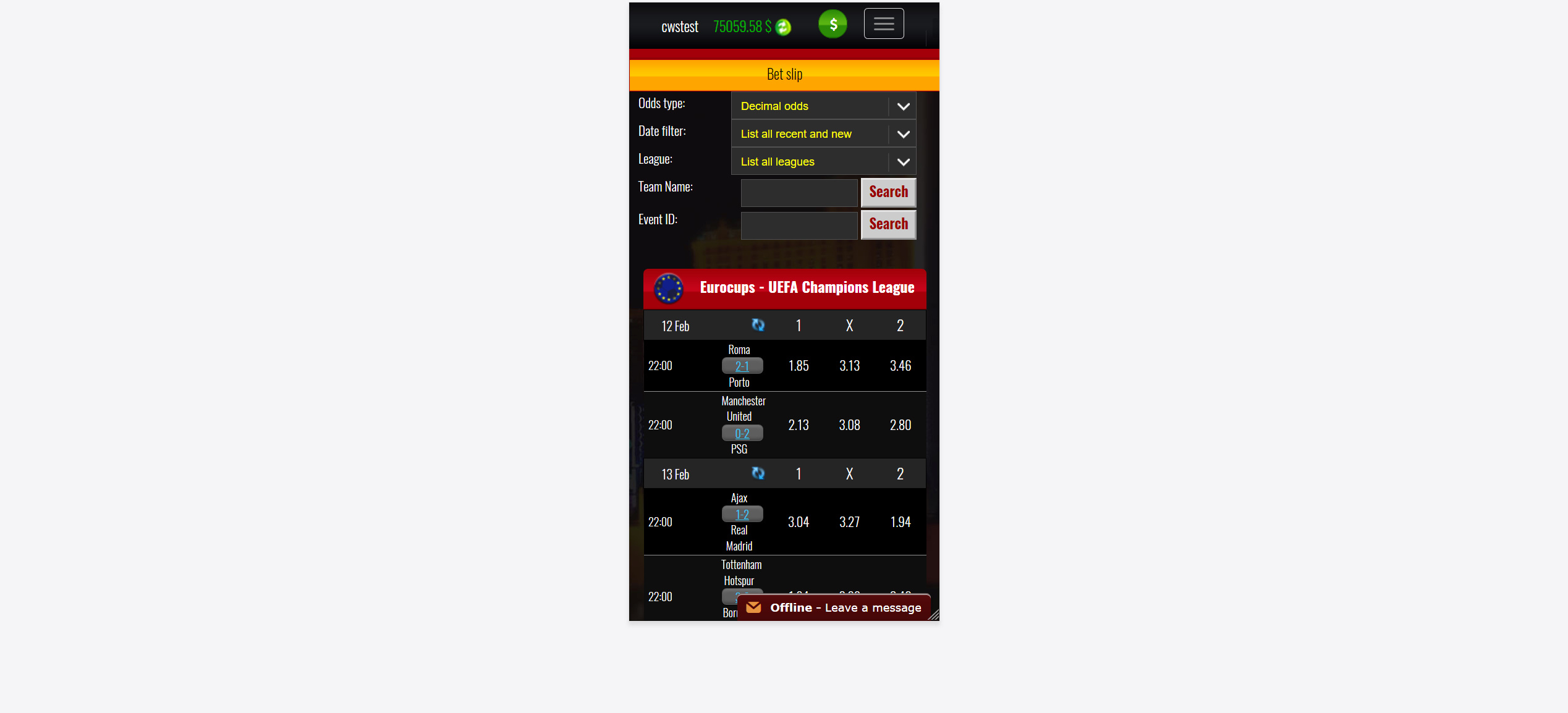 For more details or for purchase, please contact us.

1 February 2023
Creating an online casino and starting a business in the iGaming industry is a great option for entrepreneurs who are interested in making a successful investment. The constantly-growing casino market is tempting, mostly...