Since the beginning of time, people were fascinated by the mystery that lies in the games of chance, and how luck and fate could influence their outcome. Asia is one of the continents where a multitude of gambling games were invented, many of them even being played during the modern times that we live in. In fact, recent discoveries revealed that China's gambling history has its roots since 6,000 years ago.
Gambling has even become a tradition in several Asian countries. For example, the Chinese New Year is the perfect time for gamblers to try their chances, especially since the beginning of a new year is always expected to bring good luck and to wipe away the bad luck of the previous one.
The Asian gambling culture has also been influenced by numerology. Asian gaming providers are aware of the fact that several numbers and symbols can either bring good luck or terrible misfortune. Cantonese is one of the most used dialects in China, and the significance of numbers and symbols plays a big part in how individuals prefer to gamble. For example, the Chinese believe that the number 8 can bring a lot of luck to the one who comes in contact with it. Many gamblers prefer to bet on this magical number, and even the Beijing Olympics started at 8 pm on 08/08/2008. On the other hand, the number 4 in Cantonese is a bearer of bad luck, as it signifies death. This is why this number is usually taken off Baccarat tables.
China is also recognized for housing the most prosperous gaming hub in the world, Macau. The values, superstitions and methods of China's 6000-year-old gaming history made Macau the thriving casino gambling region that, at this point in time, surpasses Las Vegas when it comes to the amount of gaming revenue it generates.
Despite the fact that Macau is the only region in China where Asian gaming providers can offer land-based casino services to customers, gambling establishments in this area attract an enormous amount of visitors yearly. Both high-rollers and mass-market customers are enticed by the glitz and glamour of the amazing Macau casinos. Luxury and opulence are the adjectives that best describe the casino industry in Macau, and everyone loves to be a part of it.
Asian gaming providers can also offer their services to individuals who want to gamble in land-based casinos in Philippines, Malaysia, Nepal, New Zealand, Singapore, Sri Lanka and Vietnam. All of these countries already house gambling establishments, with more or less restrictions when it comes to those who visit them. Furthermore, Japan is also expected to take a gamble on casinos in the near future, especially since the 2020 Olympic Games will attract a significant flow of visitors.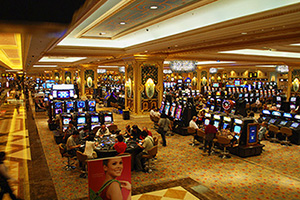 When it comes to online gambling in Asia, the industry is still in its young years. Obtaining a gambling license in order to open an online casino in an Asian country is as important as in any other jurisdiction. Gaming insiders usually recommend Philippines for operators who seek to open an online casino in Asia, because it is the only Asian jurisdiction that licenses internet casinos.
Asian gaming providers also suggest that Asian operators who seek to open an online casino can easily do so by obtaining an offshore gambling license. Regulatory authorities in many countries around the world already offer such licenses, but that is solely the operator's choice.
A new and revolutionizing method of opening online casinos has become extremely popular in 2013. Today, entrepreneurs have the possibility to open online casinos with Bitcoin or any other cryptocurrency, such as Litecoin, NetCoin, Dogecoin, Lottocoin, etc. By implementing payment methods that only allow transactions with virtual money, operators do not have to obtain a gambling license.
When it comes to games preferred by Asian players, it is known that the majority of gamblers located in this part of the world tend to stick to the traditional games that were present in Asia ever since hundreds or even thousands of years ago. Asian gaming providers who want to meet their customers' requests created traditional Asian games that can be played online. Internet gaming suppliers, like CasinoWebScripts, developed various gambling games inspired from the Asian culture.
One of the most popular casino games that our team at CasinoWebScripts developed is "Sic Bo Deluxe", a dice game that is also known as Dai Siu or Tai Sai. Sic Bo has even managed to reach casinos in Nevada, and is now played in countries all around the world.
Another captivating game inspired from the Asian culture and present in CasinoWebScript's portfolio is " Fish Prawn Crab", or Bau Cua Ca Cop. Similar to Sic Bo, this game is characterized by a more dynamic design. Thus, the six pips that can be found on the three Sic Bo dice are replaced by pictures of a fish, a prawn, a rooster, a crab, a stag and a calabash gourd. Variations of this game are especially popular in China and Vietnam.
High-rollers hit the Macau Baccarat tables every night and spend fortunes while playing it. This is why Asian gaming providers and our developers created an online version of this enticing game. "Baccarat Deluxe" by CasinoWebScripts captures all the elements that can be found inside an extravagant Macau casino.
Our developers have also thought about players who prefer to play Keno, a lottery-like game that was actually invented in China, even though its name is said to have Latin roots. At this point in time, Keno can be played at casinos and even in state lotteries. Our Asian themed version, "Shanghai Keno 80", invites players to try their luck by selecting numbers from a pool of up to 80. Only 10 numbers can be the winning ones, and gamblers have to choose the right numbers to win.
Asian gaming providers also learned that gamblers in this part of the world have become interested in playing the traditional slots games that can be found in almost any modern casino. Online slots like CasinoWebScripts' "Chinese Zodiac Slot", "Path of the Ninja", "Heart of the Dragon" and "Rise of the Geisha", are all inspired by enigmatical Asian symbols and magical stories from countries in the Far East. Square slots, like "Tarzan Square Slot" and "Egypt Quest Taiwan Slot", usually played in Taiwan, have also caught the attention of casino gaming enthusiasts during the last few years.
Scratch games, like "Chinese Fortune" and "Year of the Dragon", are the perfect solution for gamblers who prefer to relax, take part in an authentic Chinese story and find out how their share of chance and luck will influence the games' outcome.
But for those who prefer a more thrilling experience, the monkeys of "Thunder Monkeys" arcade game will always keep the players' hearts pounding with excitement. A fierce race between monkeys that climb to the top of the sky will bring great contentment to the ones who play this eye-catching game.
Gambling is and will always be a big part of the Asian culture, and Asian gaming providers, including CasinoWebScripts, will always be there to meet the requirements of operators who seek to start online casinos with enchanting games.

1 February 2023
Creating an online casino and starting a business in the iGaming industry is a great option for entrepreneurs who are interested in making a successful investment. The constantly-growing casino market is tempting, mostly...