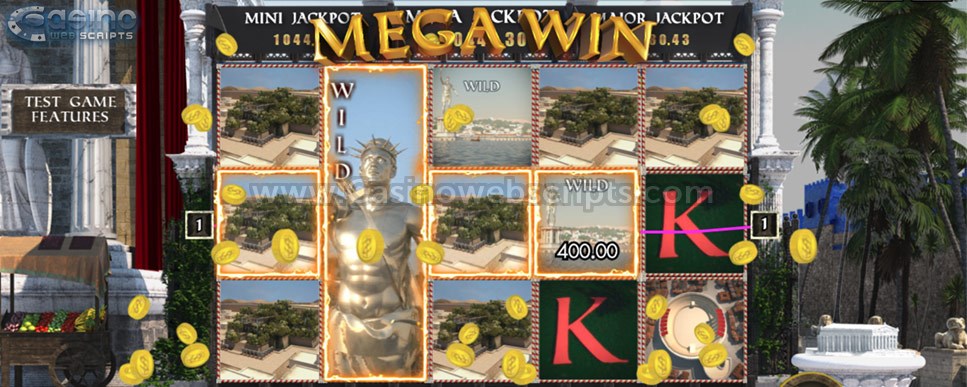 The popularity of CasinoWebScripts' online slot game Ancient Wonders 3D for desktop devices has inspired the company's developers to create an upgraded version of the game, compatible with all mobile and desktop devices.
Ancient Wonders 3D Mobile and PC is a beautifully crafted, 5-reel slot game, which reveals the astonishing, incredibly remarkable Seven Wonders of the Ancient World.
Operators can integrate this online slot game with any gaming-related business model. In this category, we can include real-money casinos, cryptocurrency casinos (any cryptocurrency of your choice), sweepstakes, internet café and other solutions upon request.
We can also modify different aspects of this game, or you can modify it on your own by purchasing the "No-copyright" version of the game.
Ancient Wonders 3D for mobile and PC promises to deliver the ultimate online slot gaming experience, with its multitude of additional features, nicely-designed graphics and movie-like sound effects.
All the symbols become animated once an active payline appears on the reels.
We are excited to say that we've introduced a multitude of special features in Ancient Wonders 3D, with special animations that pop up on the screen each time a large payout is awarded.
Here are some of the signature features that our online casino developers used for this game.
Gamble
The classic gamble mode can be activated in this game each time the symbols form a winning combination (not available in Bonus Mode). The gamble session is the classic variant where players need to guess if the next card dealt will be red or black.
Expanding Wild
The majestic Colossus of Rhodes is revealed when two wild symbols appear on the same reel in normal play, and when one wild symbol appears in freespins mode.
Freespins
One of the most requested special features by players is the freespins feature. In Ancient Wonders 3D for mobile and PC, freespins are triggered when 3 or more scatter symbols pop up on the screen in normal play mode, and twice during freespins. During freespin mode, each win is multiplied by x2.
Bonus
The signature feature of Ancient Wonders 3D is the Zeus Bonus mode. This feature offers players the chance to randomly win credits, multipliers or freespins. To reveal a reward, players need to click on any of the bowls with coal. To collect a reward, players must reveal the same reward twice.
Progressive Jackpot Win
Players who are lucky enough to get scatter symbols on all reel stops can win one of the three Progressive Jackpots (Mini Jackpot, Major Jackpot, Mega Jackpot).
Pricing information and a live demo, where you can test each feature of Ancient Wonders 3D for mobile and PC, can be found here.

1 February 2023
Creating an online casino and starting a business in the iGaming industry is a great option for entrepreneurs who are interested in making a successful investment. The constantly-growing casino market is tempting, mostly...