The stories of gangsters and the mafia have inspired our online casino software developers to create a set of games that would reflect the lifestyle of these unlawful, but legendary and fascinating characters. All of our games will give players a boost of adrenaline, as the stories of conspiracies, assassinations and dangerous gambling will unveil themselves in a heart-pounding experience during gameplay.
Our gangster-themed casino games have been created with an abundance of additional features, which are meant to give players the real feel of what it's like to be part of that dangerous world. Slots are some of the most entertaining mafia games, as they come with bonuses, jackpots, expanding wilds and many other surprises.
Our online casino software development team has also created mafia-themed video poker games, for those who want to try their luck by creating the best card formations possible. Even so, if players are just looking to have a little fun without having to use any of their casino skills, they can try our scratch card games, which offer them the chance to effortlessly win credits.
Here are some of our mafia-themed casino games, suitable for any online casino business, including bitcoin casinos or sweepstakes:
This video poker game will get any player's level of adrenaline up. Royal Flush Gangsters has been designed with a mafia theme which reminds us of the old gangster movies – the background comes with retro elements and the buttons look like bullets.
The rules of this video poker are easy, and the game can be played by any type of casino player. Beginners can simply take a look at the game rules, and learn how to play the game in the shortest amount of time.
Our online casino software team has designed this game with a 'Kings or Better' rule, meaning that players must form at least a pair of kings to receive a payout. Royal Flush Gangsters also comes with an Auto Play option, and users can choose to try the Double feature when they get a winning formation.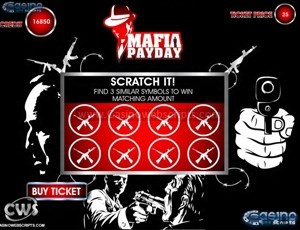 Mafia Payday is an arcade scratch game, with a theme that perfectly recreates the gangster movies which gained popularity all around the world. With a bold, red and black background, and symbols which look like guns, this game will be a delight for any gaming enthusiast who wants to enjoy a simple, yet rewarding casino game.
Scratch cards are all about relaxing and revealing prizes, so players can sit back and scratch the gun symbols to discover identical values. Since this game does not require any skills at all, it can be played by any casino player type. Compatible with desktop devices including personal computers and laptops, Mafia Payday can be played between two blackjack or poker sessions, for a little relaxation.
This 5-reel slot game is packed with features that will entertain players as the reels spin and reveal animated symbols which can form up to 15 paylines. The background of The Reel Mob shows a threatening hand holding a gun, with bullet holes and bloody stains all over, and the music transports players right in the middle of the action.
The symbols include action-packed scenes of exploding cars, shootings, mafia leaders and gangsters gambling in casinos. The Wild symbol shows a gun which can transform into an Expanding Wild, and reveal a scene during which a bank is robbed. Freespins can be activated by at least 3 whisky glass scatter symbols appearing on the screen.
The most exciting part of The Reel Mob, developed by our online casino software creators, is the bonus. This feature invites the player to embark on a virtual adventure, during which he becomes a member of the mob. The player can rob a casino, a car, a policeman, a woman or a cash machine, without getting caught.
Players can also win the jackpot if they are lucky enough to get scatter symbols on all reels.
Spin Father is a thrilling casino multispin slot game created by our online casino software developers. If you've never played a multispin slot before, you will discover that it can get you hooked instantly! The game is really easy to play, but it can keep players engaged due to its unexpected features.
The symbols of this game recreate the stories of the mafia, with guns, luxurious cars, gold bars, gold rings, and even gangsters' favorite wine. Players just need to press SPIN and see if they matched at least three symbols of the same kind to receive a payout.
One of the most interesting parts of Spin Father is receiving one of the two mafia jokers, which can multiply the winnings significantly. This game is filled with dangerously-looking symbols, and the background music will keep players alert.
This 5-reel slot game presents the story of a gangster who got caught, and is now trying to get out of prison. The Great Escape has been designed with great quality graphics, and a background which reveals the prison walls. The reels are filled with symbols which describe what it's like for the gangster to be held captive.
The online casino software developers from CasinoWebScripts have created The Great Escape slot game with symbols that animate whenever a payline is formed. The Wild symbol can transform into an Expanding Wild and reveal a way for the mobster to get out of prison. Freespins, which can be won when at least three Scatter symbols appear on the reels, will multiply all winnings by 3 and bring our mobster a little closer to escaping.
The action culminates during the Bonus round, when the player must help the prisoner reach his goal. By climbing the ropes on the prison's wall, the gangster can either manage to escape, or fall and be discovered by the prison guards. Players can also get the chance to win the Jackpot, only when scatter symbols appear on all reel stops.

1 February 2023
Creating an online casino and starting a business in the iGaming industry is a great option for entrepreneurs who are interested in making a successful investment. The constantly-growing casino market is tempting, mostly...