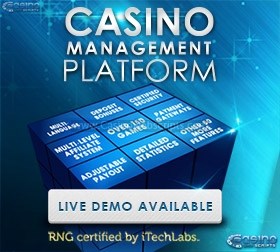 Operators who are looking to buy casino software should know that we have recently upgraded the casino management platform developed by our company.The new improvements are meant to offer operators the possibility to view even more information regarding all activity related to the online casino.We have added several useful features that will provide a better experience for the operator, in order to easily manage the casino activity.
Geolocation maps – we consider that this feature is of main importance for an online casino software platform, due to the fact that it provides information regarding the location of casino users. Thanks to this upgrade, operators will be able to see the location of users who signed up, in order to find out which country brought the most signups. Map representations regarding deposits and withdrawals from all locations are also now available, along with a map with the login locations of each user.

Live profit chart – we have added a live casino net profit chart, which reveals information about profit related to each player
Server monitoring tool – a new tool that monitors memory and CPU usage of the casino server has been added to the casino software management platform
Multi login IP detector – this new feature allows operators to see if users tried to login from the same IP on multiple accounts, with information that appears on a map representation
Daily event listing – thanks to this new feature, operators will have the possibility to see all the events that took place throughout the day. Information regarding daily wins, deposits, affiliate payments and customer support tickets is now available
Maximum bonus amount tool – operators will have the possibility to set the maximum bonus amount that a certain bonus will give. This new feature is available for percentage deposit bonuses. For example, when a player deposits $5000 and you offer a 100% deposit bonus and a $2000 limit, the maximum bonus amount that the player will get is $2000.
Ranking statistics – the casino software platform now allows operators to view ranking statistics that show which games were accessed the most, and which games brought the largest amount of profit
Conversion rates – operators can now see detailed tracking statistics related to signups, which will determine the conversion rates of the casino campaigns, in order to reveal when players signed up more
Meta tags tool – we have also added a casino software feature that allows adding meta tags (keyword, title, description) using the CMS from the administrator panel, per page or game page
These features are a part of CasinoWebScripts casino software management platform upgrades, along with a wide range of improvements to the aspect and design of the platform's pages. If you are interested in finding out more about our casino software, you can check out our management platform page.

1 February 2023
Creating an online casino and starting a business in the iGaming industry is a great option for entrepreneurs who are interested in making a successful investment. The constantly-growing casino market is tempting, mostly...