The development of technology has offered us a completely new view over entertainment, and not only. Not so many years ago, we could only play casino games on our personal computers, with a wire internet connection. Now, we can simply play online from anywhere and anytime we want to, by simply using our smartphones and a wireless internet connection.

Operators who buy mobile casino games for their online casinos can reach a massive number of players, since people from almost all around the planet are engaging in such activities. People can bet and play online for real money or just for fun, on a wide range of devices which support different operating systems.
Advantages of starting a mobile casino
Convenience and accessibility
A major advantage that comes with buying mobile casino games and starting a mobile casino is the convenience of a mobile solution, as it allows players to access your games from anywhere and anytime they want, by simply logging in at your online casino via their smartphones or tablets. Like so, you will reach players more easily and offer them their favorite games, whether they are at home, on vacation or in any other place with an internet connection.
Great gaming experience for players
More than that, players will not need to plan in advance to stay in one place and take a break to play at your mobile casino. If they would have to go to a land-based casino, a lot of time would be wasted with getting to that location, and then maybe waiting in line at a table or slot machine to enjoy a specific game.
It is true that the experience provided by a land-based casino will probably never be identical to a virtual one, but if you don't enjoy socializing at a casino, the food or the general atmosphere, a mobile casino will offer players a complete gaming experience, with less fuss.
Wide range of casino games available
Operators who want to buy mobile casino games can nowadays find a multitude of solutions for their gaming sites. Casino software development companies are taking advantage of new technologies, and new casino games appear each month. More than that, you can find a variety of games, from all kinds of slot games with different themes, to skill-based games such as blackjack or video poker.
Disadvantages of starting a mobile casino
Players not adapting to using mobile devices
When you decide to open a mobile casino, you can reach players of all legal ages and from different parts of the world. It is true that some people do not yet know how exactly to use certain websites or applications.
Even if the younger generation is keen to find out all about the latest gadgets and devices, people who are not accustomed to using a certain type of mobile device could encounter certain problems. This is why it is a good idea to write all information on your website regarding how to register, withdraw and deposit money, and even detailed information about your games.
Smaller games selection than on website
Operators who buy mobile casino games should take into consideration that mobile gaming has been on the market for just a few years, which means that there a lot more games developed for desktop computers than for mobile devices. Even so, the mobile gaming industry is growing with each day that passes, and in a few years we will find as many solutions for mobile devices as for desktop computers.
Mobile phones' small screen size
Sometimes, the mobile casino gaming experience can be less entertaining because of a device which has a really small screen. It is true that companies who develop mobile devices now offer smartphones with huge screens, which are sometimes similar to a mini tablet. Even so, not everyone can afford or has access to phones that are created with big screens and the latest technology. A small screen could reduce the gaming experience, because it will require more concentration.
How to offer mobile casino games to players
Mobile applications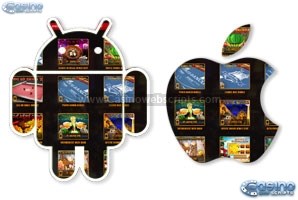 There are several ways to provide mobile casino games to players who want to access them via mobile devices. One way would be to create special applications which are compatible with the two most popular operating systems for mobile phones, namely Android and iOS. Until 2015, Google Play did not allow real-money gambling applications, since it was against their policies.
Like so, all applications which involved offering real-money prizes were banned from the applications store of Android devices. Even so, it has been reported that during the NFL season of 2015, Google Play approved two daily fantasy apps, which was a sign that rules regarding gaming apps on Android devices could soon change.
On the other hand, operators looking to buy mobile casino games should know that the Apple App Store, which is distributed for devices such as the iPhone or iPad, offers a wide variety of mobile casino applications. Even so, not everyone can download these apps, mainly due to the fact that Apple complies with gambling regulations from all countries.
For example, remote gambling is prohibited in countries such as the United States or China, which means that residents of these countries are banned from downloading and accessing such apps. It is clearly stated in the Guidelines page of the App store that any apps which offer games that involve real-money during gameplay, such as poker, slots or lottery, require a license and permission in order to be run in the countries where they are downloaded.
Mobile version of the casino's page
Another option for operators who buy mobile casino games is to offer a version of the casino's page created especially for mobile devices. In order to have a casino that can run on mobile devices, your games should be compatible with smartphones, tablets, or smart TVs.
Games that can be run on mobile devices can be designed with HTML5 technology, which allows players to enjoy the games on both their mobile devices and their personal computers. CasinoWebScripts offers a collection of mobile games that can be played on all mobile devices, and a collection of games developed with Flash technology, which can be accessed only through desktop computers.
With a mobile version of the casino's page, players can easily access the games, without having to download any applications. Like so, they will just need a stable internet connection as the main requirement, which means that there is no need for a fast bandwidth and a lot of space on the smartphones or tablets to download additional applications.
If you want to buy mobile casino games and create a mobile version of the casino's page, there is no need for an additional management software platform. Our online casino software will offer you all the tools to manage your casino, whether it is the desktop or the mobile version of the website. A mobile responsive template is included in our casino software package, which means that players will be able to access your games from their desktop computers at home, or on their mobile phones or tablets, from any location with a stable internet connection.
Accepting payments for your mobile casino
Whether you decide to offer a mobile applications or a mobile version of the casino's page, players can deposit real money via basically the same payment methods. The procedure involves a mobile payment method, including e-wallets such as Skrill or Neteller, which accept deposits and withdrawals in and from online casinos. Players can also deposit and withdraw by using their credit and debit cards, such as Visa or Mastercard.

1 February 2023
Creating an online casino and starting a business in the iGaming industry is a great option for entrepreneurs who are interested in making a successful investment. The constantly-growing casino market is tempting, mostly...