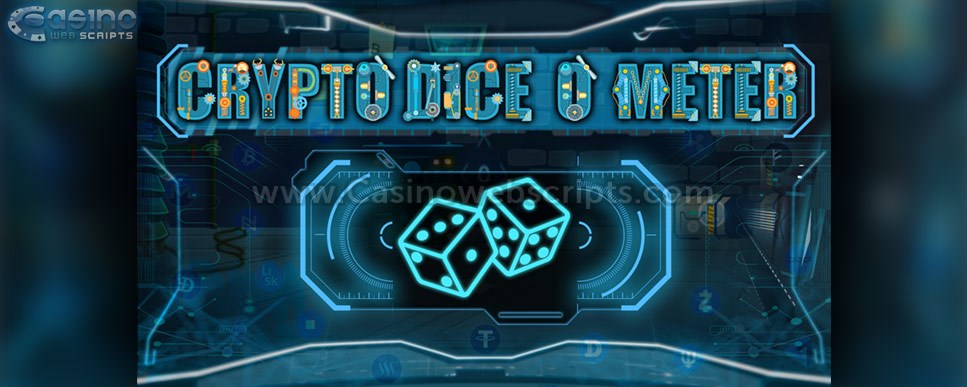 Following the success of Bitcoin Billion, the first cryptocurrency-themed casino game developed by the online casino software developers from CasinoWebScripts, the team has decided to add a series of crypto-themed games to the collection they provide.
The latest game from this series is Crypto Diceometer, a game which can be played easily by anyone, without needing any gaming skills. The creators of this game have decided to give it a futuristic theme with glowing elements and an attractive game scenario.
Once the players open the game, they'll enter a room where bitcoins are mined. Players must choose their bet and set a number interval from the slider in the lower part of the screen. When you press ROLL, 5 dice pop up. To win, the sum of the dice must be included in the number interval chosen by the player. Then, you can choose a different number interval or bet again on the previous number interval.
In the left part of the screen, players can view a HISTORY panel, which can help them make decisions about the next number interval that they're going to choose. In the middle of the screen, players can also view the possible win, the payout and the chances of winning, all set depending on the number interval that they choose.
Crypto Diceometer is a game that works great for a single-game cryptocurrency site, just like Satoshi Dice. Our online casino software developers can also create a multi-game bitcoin site where you can add multiple games from our collection, including Bitcoin Billion, Crypto Persian Prince and Rock Paper Scissors Tile Adventures.
If you're interested in Crypto Diceometer and you want to start a bitcoin game site, we can help you start your business in the shortest amount of time.

1 February 2023
Creating an online casino and starting a business in the iGaming industry is a great option for entrepreneurs who are interested in making a successful investment. The constantly-growing casino market is tempting, mostly...