Start local game shop
You want to start a local gaming business but you don't want to invest too much money in specialised slot machines equipment? Do you want a reliable software that can be used multiple environments - online and local casino?

CasinoWebScripts has come with a solution to this. You can buy and normal PC's (512mb RAM, 64mb GPU, 1.5ghz CPU)with custom KEYBOARD and touchpad mouse or touchscreen monitors. Total costs would be maximum 200 EUR / machine.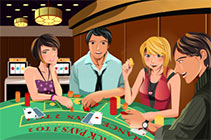 You can use our AIR CLIENT to install on all the PC's from your cafe shop and this way your players will be able to access the casino instantly. Various changes can be implemented, like adding a timer to the application or automatically log-in users or automatically give bonus.
Please contact us at
www.casinowebscripts.com
for more. Start igaming shop today!

1 February 2023
Creating an online casino and starting a business in the iGaming industry is a great option for entrepreneurs who are interested in making a successful investment. The constantly-growing casino market is tempting, mostly...