If you have decided to open an online casino, it is important to go through all the steps that will help start your business in a short amount of time and in an easy manner. The online gambling world is quickly expanding, and owning an internet casino is more accessible and less time-consuming than starting a land-based casino. There are a few steps that you have to take in order to quickly open an online casino, whether you are looking to start a real-money casino, a Bitcoin gaming site or a Facebook social casino.
1. Choose your online casino platform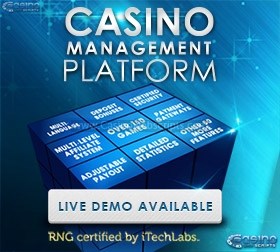 The online casino management platform is the software that stands behind all the activity of the online casino. Owning a good quality casino software platform will help you run your casino smoothly, and will also offer you information about users, games, deposits, profit, and more. The casino software should include the casino lobby for the users who register, login, make deposits and withdrawals, information about games, and a detailed administrator panel that should reveal a wide range of statistics.
When you open an online casino, you will find out that the costs of acquiring a casino software platform can be a bit high, especially if you choose a platform from a company that requires additional monthly fees for using their software. If you want to cut the monthly costs, you can choose to purchase a platform from a company that does not ask for any monthly fees, but instead sells you the complete software package that you can run by yourself, for as long as you want.
Besides the price factor, when you choose a management platform to open an online casino, it is important to pay attention to the features that come with the software. You have to make sure that the platform is secure, scalable and practical. The following features are essential for a good quality casino platform:
Security features - the most significant aspect that you have to think of is making sure that your online casino is protected against internet threats. It is of utmost importance to run a casino that is not vulnerable. CasinoWebScripts' software platform has been developed using the latest coding techniques, and it is fully ensured against any web vulnerabilities. You should also be able to use the software platform to avoid fraud and money laundering, offer responsible gaming messages, and easily identify all users.
Financial features - when you open an online casino, you will have to think about what kind of payment methods you should provide for players. You can choose a wide range of currencies, from USD or Euro to Bitcoin or any other cryptocurrency, and various payment systems, such as Skrill, Neteller or CoinBase. You should offer the most appropriate payment methods depending on the location of your potential customers. The online casino platform should also offer information regarding all financial activity from your casino.
User and games features - the management platform should allow you to have access to all details about users, including IP login history, statistics, bonuses and affiliates. You should also be able to receive information about your games, with detailed statistics and the possibility to customize the games according to your requirements.
Marketing features - a multitude of marketing features will be useful when you open an online casino. The casino software platform should provide player affiliate systems for affiliates that will bring players to your casino. More than that, you should be able to offer VIP rewards and bonuses to loyal users, and have the possibility to send emails to all your user database. The casino software should also be optimized for search engines.
2. Choose your online casino games
Choosing your online casino games is probably the most fun part of opening an online casino. You can choose your preferred games, but you should also think about your target audience. If you are planning to cater to a certain type of players, from a specific geographic area, it is efficient to do some research and discover the preferences of the local consumers.
On the other hand, if you are looking to start a business that reaches people from all around the world, you should offer a diversity of products that includes the most popular casino games. Some of the most appreciated titles, that have gained worldwide recognition, are video slot machines, roulette, baccarat, poker and blackjack.
You can choose to purchase games from a single operator and integrate them with your software platform, or you can choose to buy casino games from various operators and use a single casino management platform. You can also look for casino games packages, which come in bulk and are usually much cheaper than choosing specific games.
CasinoWebScripts offers an impressive collection of over 150 high quality casino games. An important aspect that you have to consider when you open an online casino and buy casino games is that the games you purchase should be certified by a company that specializes in testing and verifying games, in order to allow players to see that you are using a random number generator system, which means that the casino is not trying to cheat. CasinoWebScripts' casino games have already been certified by iTech Labs.
When you buy games for an online casino, you should also avoid several issues that players get confronted with:
Choose games that are visually pleasing, attractive and which do not hurt the eye, such as those with sharp graphics
Get games that are easy to understand and even try to offer games that are translated in customers' native language
Purchase games that can be accessed instantly and run in popular web browsers. Users do not usually have the time or patience to download a game client to their desktop
3. Choose your payment methods
The payment infrastructure is another essential part that you have to consider when you open an online casino. After you obtain your casino license, you will have to choose the payment options that you are going to offer to customers, in order to allow them to deposit and withdraw money from your online casino. The online gaming community uses credit and debit cards, and your casino should accept payments with these instruments.
You can also set up an account with a payment processing company, such as Skrill, InstaDebit or Neteller, which will allow fast and secure transactions. When you search for a payment processing system, it is important to do a research regarding the fees that will be associated with casino payments.
4. Get a webserver
In order to open an online casino, you will need a web server and a web domain. It is not necessary to own a web server, taking into consideration that you can rent one for around €60 per month. Search for web hosting companies, such as GoDaddy.com or Vidahost.com, and do a little research to see if they can respond quickly if you encounter any issues.
5. Obtain an online gambling license
If you choose to open an online casino that allows real-money transactions, you will have to obtain a gambling license from a licensing board. There is no piece of legislation that legalizes your online casino on a worldwide level, so you will have to look for the best solution depending on the location of the users that will access your casino.
Each country has different views on the rules regarding the products you can offer and the users you can reach. The costs can also vary depending on the quality and the reputation of the online gambling license. The reputation of the gambling license will also affect how players perceive your online casino, due to the fact that a respected gambling board offers licenses to casinos that are strictly controlled when it comes to their operations, which means that users could have more trust in your casino.
Some of the most appreciated gambling licenses are those offered by the United Kingdom and Philippines, which provide some of the best practices, a solid infrastructure and high-speed internet. Operators who want to open an online casino and obtain a license from a reputable licensing authority will find out that the prices of such a license are a bit high. You can also find less expensive gambling license solutions, such as a Costa Rica license.
6. Use an alternative solution to real-money gambling
If you do not want to invest in an online gambling license, you have the possibility to open an online casino with Bitcoins or other cryptocurrencies, or start a social casino on Facebook. These solutions do not imply any direct real-money transactions, which means that you do not need a gambling license.
The startup costs of these two solutions are significantly lower than those of opening a real-money casino. None of these solutions can be classified as online gambling operations.
A Bitcoin online casino does not operate with real money directly, and Bitcoin casinos do not require obtaining a gambling license. When you decide to open an online casino with Bitcoin, you will have the possibility to reach players from various parts around the world, thanks to Bitcoin's increasing popularity. If you want to find out more about how to open a Bitcoin casino, you can take a look at our Bitcoin casino solution.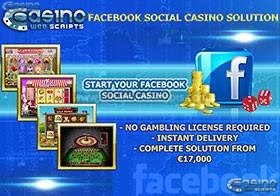 Another popular gaming solution that does not require a gambling license is a Facebook social casino. With a Facebook solution, you will have the opportunity to reach maximum exposure to potential customers, due to the fact that the number of Facebook registered accounts has grown to no less than 1.4 billion users as of March 2015, according to statista.com. People will get to play online casino games in a legal environment and purchase virtual credits to continue playing. If you are interested in starting a Facebook social casino, you can check out our Facebook casino solution.
7. Launch and promote your online casino
When you open an online casino, you will have to save a part of your budget for promoting your business. It is important to use a solid marketing scheme several weeks before launching your casino. In order to do so, you can use a series of marketing techniques to promote your games, even before actually running your operations. There are several efficient tools that have proven to be a part of a healthy marketing campaign in the long term.
Press releases on news portals - if you open an online casino, you will constantly have to write press releases about the events regarding your games, promotions and bonuses. You can also write a pre-launch press release, where you can talk about what your casino will offer to players once you open it
Banner ads on gambling websites - placing banners with your online casino on gambling-related websites will catch the eye of gambling enthusiasts who visit those websites. This is a tool that can be used immediately after you launch your online casino, in order to reach customers that will link to your gaming site
Social media coverage - one of the best ways to reach customers is through social media profiles, which are a must for every modern online business. The gambling industry is no exception, and you will have to create profiles where players can see what's new at your casino. Posting information on Facebook, Twitter, Google+, YouTube or LinkedIn profiles is essential for running a successful marketing campaign
Email marketing - email marketing is another important way to reach customers once you open an online casino. You will have to obtain a customer database in order to send emails with your latest bonuses and games, plus other important information that will catch the attention of casino users
Affiliate marketing - this marketing tool is very common among the gambling community, due to the fact that affiliates use a wide range of techniques to reach customers. Affiliates are usually gaming enthusiasts who promote your casino via their own websites or domain, and receive a percentage of the revenue that new customers generate
You can use these tools to promote your casino in-house, or you can hire a company that specializes in online casino marketing. It is important to do a little research if you decide to hire a specialist, due to the fact that an online casino requires a different marketing approach than the majority of internet businesses. Online gambling is a niche business that can only be promoted for the right audience, especially due to the fact that operators need to protect minors and people suffering from compulsive gambling.
These are all the steps that you have to go through when you open an online casino. Starting an online gambling site can be an extremely profitable business that can regain the startup costs in a short amount of time, if you use a solid marketing campaign, offer support to your customers whenever they need and provide good quality products.

1 February 2023
Creating an online casino and starting a business in the iGaming industry is a great option for entrepreneurs who are interested in making a successful investment. The constantly-growing casino market is tempting, mostly...