The industry of gambling in Asia has grown tremendously in the past few years. Macau, the Las Vegas of Asia, has become a top gaming destination where all kinds of players enjoy the glamour and luxury of the land-based casinos situated in this gambling mecca.
We can find an interesting range of casino games which were created in Asia, and became popular all around the world. Sic Bo, for example, is an ancient Chinese game which is now played in casinos all around the world.
An even more popular game is Keno, a lottery-style game which is easy to play and suitable for all types of gaming enthusiasts, whether they are beginners or experts. Even so, players who are not interested in visiting a land-based casino can find all these games online. Companies which engage in casino games development now provide a wide range of Asian-inspired casino games, from the most popular ones to specific games which are only popular in certain parts of the continent.
Besides traditional games, such as Sic Bo, we can also find a multitude of slot games with themes that have been inspired by popular stories, such as tales of Geishas, Ninjas, Persian treasures, Egypt, Chinese lucky signs and more.
Our casino games development team has created a collection of Asian-inspired casino games, compatible with both mobile and desktop devices, and suitable for any type of online gaming business, including real-money online casino, Bitcoin casino, sweepstakes business or Facebook gaming. Here are our top most requested Asian-culture-inspired games.
Golden Charms mobile slot game
Golden Charms is an enchanting five-reel slot game, designed with golden elements and some of the most significant Chinese lucky charms. Pandas, dragons, cats, koi-fish and lucky coins, will accompany players along their journey towards winning great prizes. With a nicely-designed background and traditional Chinese music, Golden Charms offers a variety of winning opportunities to all who play it.
Free spins will be activated when at least 3 golden fish symbols appear on the reels, and during this round, all winnings will be multiplied by 3. The EXPANDING WILD comes in the form of a golden dragon, and the JACKPOT can randomly be won when scatter symbols appear on all reels.
The casino games development team from our company has designed this game to be compatible with both mobile and desktop devices, with HTML5 technology. Its attractive graphics and easy gameplay will appeal to all players who appreciate the Chinese culture and enjoy games filled with good-luck symbols.
Tales of a Geisha
Tales of a Geisha is a beautifully-designed, five-reel slot game inspired by the amazing story of the lovely Japanese entertainers.Geishas were famous for their beauty, grace and multiple talents, and this game was created to reflect all these traits.
The background of Tales of a Geisha is similar to a Japanese pagoda, and the sound effects are similar to traditional Japanese songs.
Among the symbols created by our casino games development company for this game, players will find the yin-yang symbol, Japanese umbrellas, hummingbirds, bonsai trees and the geishas' pagodas.
The WILD symbol is portrayed by two little geisha dolls under an umbrella. FREESPINS are triggered when at least 3 scatter symbols appear on the reels, and the JACKPOT is won when scatter symbols appear on all reels.
Tales of a Geisha has been designed for desktop devices, and can be integrated with any type of online casino business, including Bitcoin casinos.
Sic Bo Deluxe
As we said before, Sic Bo is a traditional Chinese game which made its mark in the gambling community from different cultures.
Nowadays, Sic Bo is not only played in Asia, but also in grand casinos from the United States, United Kingdom and more. Our casino games developers have created this ultra-popular game with a glamorous, more luxurious look.
The rules of Sic Bo are not difficult to learn, as this game reminds us of the traditional dice games that are popular everywhere. Players can place several types of bets, depending on how many times a certain number will appear on each of the dices. When the dices are spun, they are displayed in a box made of glass and wood, and the winning combinations are revealed.
Players can change the color of the table or zoom in the display, according to their own preferences. The background music is soothing and meant to induce a state of relaxation. Sic Bo has been designed by our casino games development team for desktop devices, such as personal computers or laptops, and is available in a multiplayer version.
Shanghai Keno
The keno game originates from China, and is a lottery casino game that resembles bingo. Our version has been designed to perfectly depict the look of a Chinese classic game, with a pagoda-like background and beautiful, traditional elements all around. The red background and golden elements are meant to bring good luck to all those who play it, and the relaxing music completes the picture.
Shanghai Keno is an easy-to-play game, suitable for both novices and experts. During this game, players have to pick several numbers from a pool of 80. Five or ten numbers are picked by the computer, and the winning ones are those which match with the ones chosen by the player.
Keno is one of the top online casino lottery games, so it is a must for any casino operator who wants to offer players a complete solution. Shanghai Keno is compatible with desktop devices and can be played for real money, fun money, Bitcoin or any other virtual currencies.
Thunder Monkeys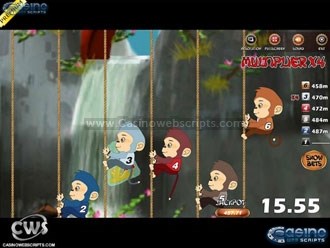 Thunder Monkeys is an arcade game inspired by the tales of the monkeys which are very appreciated in the Japanese culture, and not only. During this game, six monkeys climb ropes to the top of the sky, in order to win a race that would bring them honor and pride.
During this game, players place simple or combined bets on their preferred monkeys. During their journey to the top of the world, the monkeys may encounter eagles which try to make them fall off the ropes. A jackpot monkey can also be found along the way, along with several multipliers.
Our casino games development team has also designed a multiplayer version of this game. Like so, players will be able to compete live with other gaming enthusiasts, and see who wins the most valuable prizes. A new race starts every two minutes, during which players have enough time to place their bets.

1 February 2023
Creating an online casino and starting a business in the iGaming industry is a great option for entrepreneurs who are interested in making a successful investment. The constantly-growing casino market is tempting, mostly...